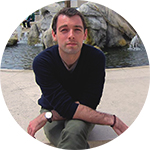 Hi.
My name is Alexander.
I am a Creative Consultant, Community Builder, and Cultural Organizer.
I am also a dancer, maker, teller of jokes, singer of songs, arts advocate, and ice cream fanatic.
As a performer I've danced in works by Bill T. Jones, Amii LeGendre, Alex Springer + Xan Burley's the median movement, Olase Freeman, Kevin Ho and Ching-I Chang, a+s works, and Mercedes Searer. I've also been a regular guest artist at a+s works' On the Farm festival.
As an administrator I've traveled to Cairo as an arts ambassador with the US State Department to facilitate a week of workshops and conversations about Basic Rights for Egyptian Dance Artists in partnership with Ezzat Ezzat Contemporary Dance Studio, and to the SDHS/CORD conference in Athens, Greece to co-facilitate a workshop on emerging artistic practices with Charles Gushue of Gushue Moving Arts.
I used to run the artist services program at New York Live Arts, was (briefly) the Programs Manager at Gibney Dance, worked as the Manager of Communications and Community for Abraham.In.Motion, and was an Associate Producer at ArKtype. I've been invited to speak about fiscal sponsorship and how to be an artist/human in New York City by Dance/NYC, Bard College, the New School, and Queens Council on the Arts, and I've taught professional practice classes at NYU Tisch School of the Arts and Juilliard. I have also been known to write the occasional article on dance and arts related issues.
I also serve on the Junior Board of Doug Varone and Dancers and am an alumnus of the Dance/NYC Junior Committee – both vehicles for striving to find ways to provide much needed services to dance artists in New York City.
Drop a line, say hello, let me know if you'd like to work together!
t: @lexanderthomp
e: alexander[dot]leslie[dot]thompson[at]gmail[dot]com
cv: alexander leslie thompson cv